We have recently discovered something that we feel we need to share with our potential customers.
We at Better Built Basements, Inc. have been serving Southern Colorado and the Front Range for many years.  We take great pride in the fact that we have a longstanding reputation of quality craftsmanship and outstanding customer service in the community.
It appears that another individual has recently begun doing business under our business name.  This is Trademark infringement and could potentially have a negative impact on our business.
You can easily verify that we are the original Better Built Basements, Inc in El Paso, Douglas and the adjoining counties by contacting the Colorado Springs Better Business Bureau and/or the Colorado Secretary of State website.  We apologize for any inconvenience this might cause you.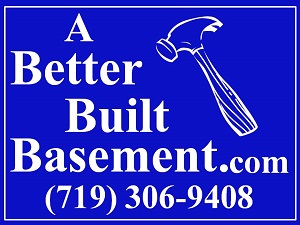 This logo is used on our business cards, signs and vehicles, and verifies that you are dealing with the 'original' Better Built Basements, Inc.
We appreciate your visiting our website.  For a FREE estimate and consultation please contact us at (719) 306-9408.
We look forward to having the opportunity to serve you.

"If you want it built better, get a Better Built Basement!"